Press extrusion is a forming procedure by plastic deformation, which consists of moulding a metal, hot or cold, by compression in a container sealed at one end with a mould or extrusion die having an orifice with the approximate dimensions of the product that is to be obtained and, at the other end, a solid disc, called a pressure disc.
If the compression stress is transmitted to the metal by means of the pressure disc or the die, the extrusion process is called direct extrusion or inverse extrusion.
EXTRUDABILITY OF ALUMINUM ALLOYS
The ease or difficulty of extruding a profile, which ultimately determines its price, is based on the studies that have made it possible to create this table:
| Alloy | Extrudability index |
| --- | --- |
| EN AW 1080 | 160% |
| EN AW 1050 | 135% |
| EN AW 1200 | 135% |
| EN AW 3003 | 120% |
| EN AW 6060/6063 | 100% |
| EN AW 6082 | 60% |
| EN AW 2011 | 35% |
| EN AW 5086 | 25% |
| EN AW 2014 | 20% |
| EN AW 5083 | 20% |
| EN AW 2024 | 15% |
| EN AW 7075 | 10% |
ENAW 6060/6063 (Simagaltok 63) alloys have the best extrudability index and have had 100% applied, i.e. the basis for the calculation.
From this information, it can be deduced, amongst others, the ease or difficulty of obtaining profiles with complex sections.
On the one hand, the alloys with a high extrudability index, because they are very soft and cannot be hardened by heat treatment, would make the profiles that could be obtained be deformed on handling, in addition to not being able to maintain the design forms.
In hard alloys, their low extrudability means that the aluminium does not flow well and therefore profiles with complex sections cannot be created. In addition to its low productivity, this type of alloy requires heat treatments of quenching and maturation with very strict control that also makes the price of simple sections more expensive.
EXTRUSION AND EXTRUSION DIE OR DIE OF A HOLLOW PROFILE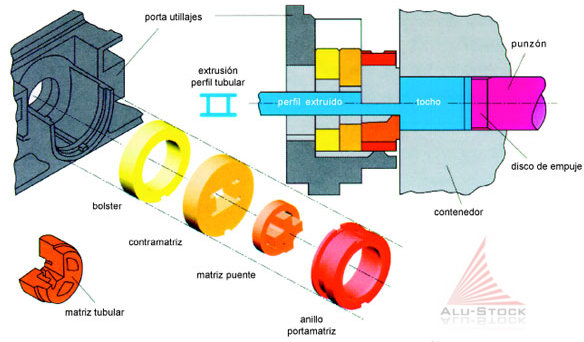 EXTRUSION AND EXTRUSION DIE OR DIE OF A SOLID PROFILE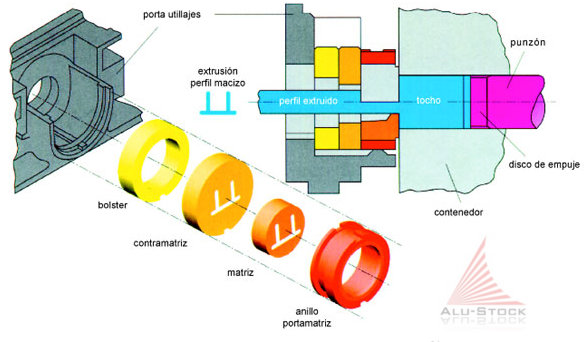 ALUMINUM EXTRUSION ALLOYS
All plastic deformation aluminium alloys are likely to accept the extrusion process and their use makes it possible to cover many sectors and solve problems as varied as those presented in decoration, mechanical construction, resistance to corrosion and chemical agents, etc.
From the point of view of extrusion, three kinds of alloys are distinguished:
_SOFT ALLOYS | Few additives:
Not heat-treatable:
Pure aluminium: 1050, 1060, 1080, 1100, 1200, 1260, 1350
Aluminium-Manganese: 3003, 3004, 3005, 3103, 3105
Heat-treatable:
Aluminium-Magnesium-Silicon: 6005, 6060, 6061, 6063, 6101, 6106, 6082
_SEMI-HARD ALLOYS
Not heat-treatable:
Aluminium-Magnesium (+/- 3%): 5005, 5050, 5251, 5052, 5754
Heat-treatable:
Aluminium-Zinc: 7003, 7020
_HARD ALLOYS
Not heat-treatable:
Aluminium-Magnesium (+/- 3.5%): 5086, 5083, 5056
Heat-treatable:
Aluminium-Copper-Magnesium: 2014, 2017, 2024
Aluminium-Zinc-Magnesium-Copper: 7049, 7075
POSSIBILITY OF EXTRUSION OF PROFILES
CURRENT LIMITS
The limits obviously depend on the presses available. In the USA, Russia and the CIS, Germany, France, Korea, China, Japan, Great Britain, etc., there are presses of 5,000 to 15,000 tons. In Spain, the measurement of extrusion presses varies between 1,600 and 3,500 tons.
Only from 5,000 tons can profiles of dimensions greater than a section of 350 mm be manufactured. Our speciality enables us to supply the profiles market from this dimension.
PROFILE LENGTH
The practical limits of the length of the profiles depend primarily on transport since, although technically they can be made longer, in the end the question is: Now how do we transport it?
In general, the length will depend on the size of the artificial maturation treatment furnace.
The normal length for the bars for machining is set at 3,000/4,000 mm and 6,050 mm for profiles. Due to their cost the profiles can be supplied to the dimensions optimised by the customer but with certain limits. In the transport, railway and marine construction industries, profiles of up to 28 m long are supplied.
Currently, for the railway and marine construction industries, profiles of widths between 400 and 600 mm welded across their entire length are supplied, which allows the supply of complete platforms up to 2,800 x 24,000 mm.
MINIMUM THICKNESSES
According to the section of the diameter of the circumscribed circle of the profile, its simplicity (soft or hard alloys), its semi-tubular shape and its difficulty in straightening (soft or hard alloys) and tubular profiles (soft alloys 1050, 5050, 6000), the thicknesses may vary between 0.8 and 50 mm.
SHARP EDES AND RADIUSES
Absolute sharp edges do not exist in extrusion. What is often referred to by the name "sharp edge" is actually a radius of around 0.3 mm. It is not possible to descend below this value due to the fragility of the tools.
The harder the alloy to be extruded, the greater the risk of splitting the tool and, consequently, the minimum radius of 0.3 mm is not recommended for the following alloys: 5083, 5056, 2017, 2024, 7075, 7049, etc.
TOLERANCES
The tolerances of profiles and extrusion bars are marked by the following standards:
Tolerances of calibrated round bars: EN 754-3
Tolerances of extruded round bars: EN 755-3
Tolerances of calibrated square bars: EN 754-4
Tolerances of extruded square bars: EN 755-4
Tolerances of calibrated rectangular bars: EN 754-5
Tolerances of extruded rectangular bars: EN 755-5
Tolerances of calibrated hexagonal bars: EN 754-6
Tolerances of extruded hexagonal bars: EN 755-6
Tolerances of unwelded tubes: EN 755-7
Tolerances of extruded tubes: EN 755-8
Tolerances of special profiles: EN 755-9