5000 family alloy especially developed for application in industrial vehicles, which has high mechanical properties coupled with great abrasion resistance. An alloy suitable for use on the floors and sides of tipper lorries, recommended for bulk transport of a multitude of products, from soft goods to cereals or vegetables to public works materials such as earth, gravel or rubble.
Mechanical properties
State
Wall thickness
Tensile strength Rm (MPa)
Yield strength Rp0.2 (MPa)
Elongation min %

Hardness HB

typical

Min bend radius

recommended at 90º

min
max
min
Typical
min
Typical
min
Typical
H34
4.0
10.0
330
360
240
270
10
17
110
4t
Resistance to abrasion
The fibre structure of the plate as well as its high yield strength gives it great resistance to abrasion, as shown in the results obtained in the Taber® test.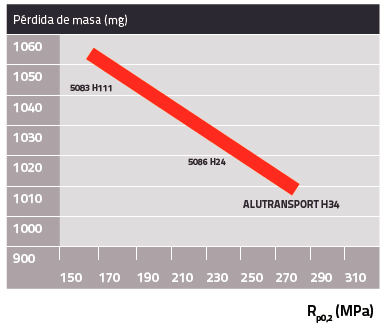 Stock Available
Thickness
Format (mm)

12,600 x 2,190

6.0 mm
* Product supplied in full pallets.
On request and in a minimum quantity, we can supply
Alutransport plates in thicknesses of up to 10 mm and in
maximum formats of 12,600 x 2,400 mm.